Course Description
2-Day Employee Experience Design Thinking Training Course (Certificate)
This high-energy 2-Day Employee Experience Design Course will give you a good understanding of the Design Thinking principles and how to apply it to innovate in HR.
Early Bird Price
€ 1.495,00
Homework
No preparation time
Standard Price
€ 1.595,00
Involvement
2 days, 8 hours a day
About this course
Design Thinking is entering the world of Human Resources Management more and more. This 2-Day Employee Experience Design Course will bring you the latest insights and best practices on Design Thinking in HR. As a result, it can create value for your Human Resources Management.
This course is for HR professionals that want to gain more insights in DT and as a result demonstrate how they can apply this new methodology in their organization. How can you develop a strategic employee-focused vision for HR? How can you create employee engagement? These are interesting challenges where you can use Design Thinking at its best. 
What you'll learn
Discover the tools and techniques you need to design the Employees' Experience that will work best in your organization. With personal coaching and feedback, you'll be able to use your strengths to innovate in HR.
Discover
Welcome
Introduction
Research Plan
Stakeholder Mapping
Define
Research
Persona Building
Employee Journey Mapping
Opportunity Areas
Develop
Ideation
Problem Framing
Brainstorming
Service Scenarios
Deliver
Prototyping
Pitching
Iteration
Reflection
Participant profile
This course is designed for:
HR Professionals...
...seeking to develop and integrate cutting edge creative practices into their employee journey processes and corporate culture

People & Culture Managers...
…looking for new tools to structure their employee journey and collaboration processes
Managers or Team Leaders...
…who want to discover what Design Thinking can offer their team in being more employee-centered

No previous experience or knowledge required

Meet your coaches
You will be guided through the course by our highly experienced Facilitators. They have years of experience in working with Design Thinking and know the tips & tricks on how to implement the knowledge in your organization.
Jeroen van der Weide
Partner DesignThinkers Academy Amsterdam
Jeroen is a Partner & Senior Facilitator at DT Academy. He is a driving force when it comes to facilitating teams, designing creative processes, and brainstorm sessions. He has an MA in Dutch Theatre, Film & Communications.
Karin Kammeijer
HR Manager
has experience working within several HR generalist roles in a multinational. She is now working as an independent consultant with a focus on improving the Employee Experience within organizations.
Tim Schuurman
Co-Owner DesignThinkers Academy Amsterdam
As co-owner of DT Academy, Tim has extensive experience in designing and implementing concepts, holding a MBA & MSc in Business and Financial Management.
CERTIFICATE
After successful completion of the 2-Day Employee Experience Design Course, participants are awarded a DesignThinkers Academy Certificate and you can celebrate your achievement of becoming a true Design Thinker. All tools and materials will be available after the course for personal use.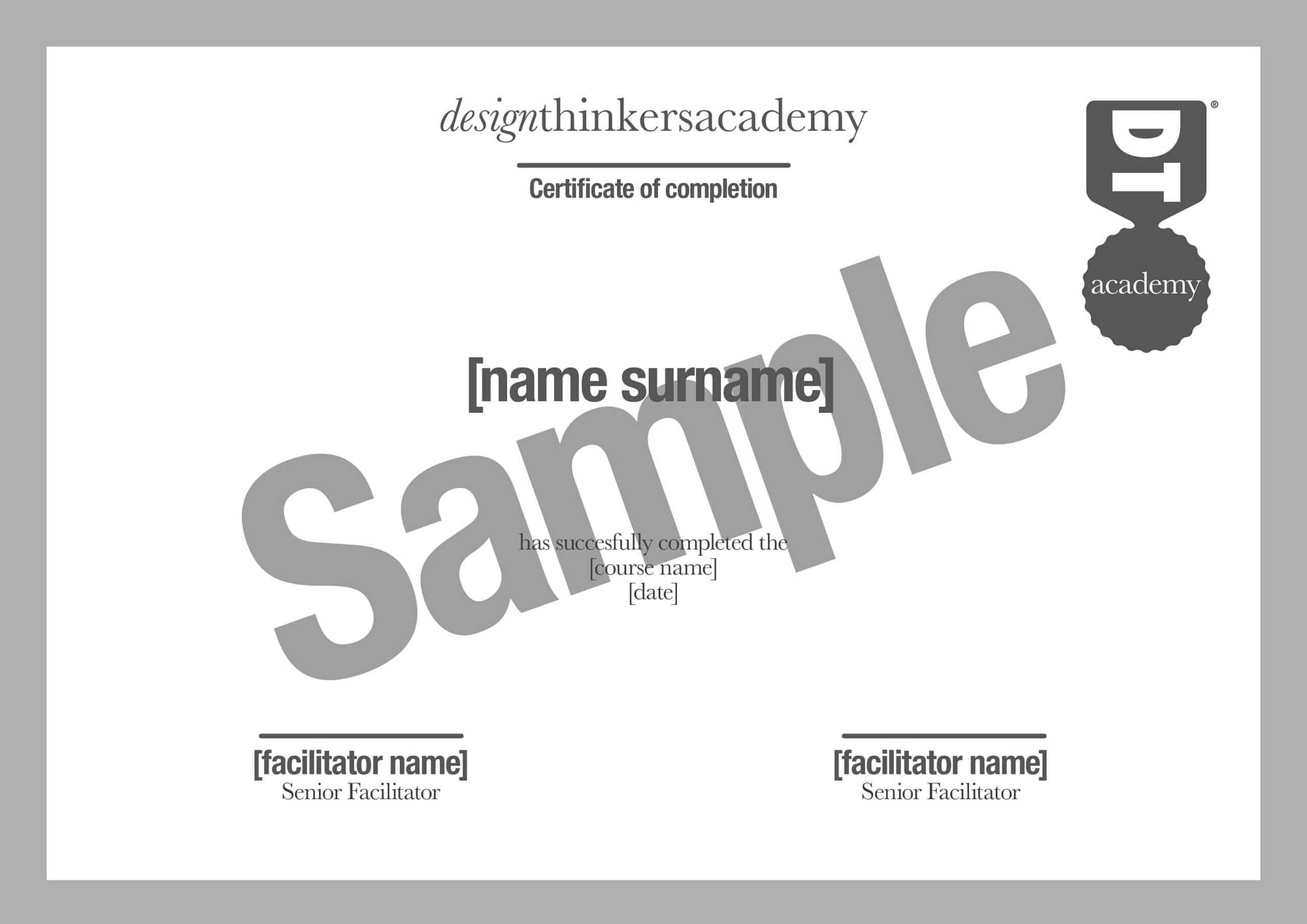 COVID-19 Protocol
At DesignThinkers Academy, we take our social duty very seriously when it comes to protecting the health of our valued participants and dear team members. Therefore, please have a look at our new COVID regulations for our in-person training, in compliance with the COVID-19 safety measures of the Dutch government:
As of February 25, 2022, we can welcome you to our studio without a demonstration of a Digital COVID Certificate or QR code. However, we do highly encourage you to do a self-test before coming to the studio.
If you are diagnosed with COVID or have COVID-related symptoms, we kindly ask you to contact us so we can rebook your ticket.
During the training days, it is no longer mandatory to keep a 1,5-meter distance or wear face masks. However, you are free to continue these practices if they make you feel more comfortable during the in-person sessions.
Our goal is to create a safe and comfortable environment in which we can continuously stimulate creativity for both participants and facilitators. Should you have any questions about our protocol or your personal situation, please reach out to us via +31 0 20 471 00 70 or info@designthinkersacademy.com.
Contact us