Course Description
2-Modules Online Customer Journey Mapping Training (Certificate)
Gain a deeper understanding of how this qualitative Design Research Customer Journey Mapping tool can improve your customers' experience in a live online classroom setting. This Customer Journey Mapping Course will equip you with a basic understanding of one of the most important tools in Design Thinking; the Customer Journey Mapping Tool.
Early Bird Price
€ 295,00
Homework
No preparation time
Involvement
2 weeks, 2.5 hours per session
About this course
This Customer Journey Mapping Course is all about the customers' perspective; stepping into their shoes, discovering their perceptions and the larger context they live in. We will show you how Customer Journey Mapping helps you to with gaining deeper insight into customer needs, behavior, experience, motivation and desired outcomes.
With a combination of 2 live classroom sessions and group assignments, you will gain practical knowledge and experience on how to apply Customer Journey Mapping in your daily work. The course consists of 2 modules of 2.5 hours.
What you'll learn
You will be working virtually in classroom sessions, followed by group work under live guidance of our skilled Facilitators. We strongly believe in 'learning-by-doing' and providing you with hands-on tools. After this interactive online course, you will be able to apply Customer Journey Mapping right away in your daily work.
Module 1
Starting off with onboarding to the platforms we are using, then jumping right into the introduction and the theory of Customer Journey Mapping. Creating Personas based on prepared Design Research. Focusing on Customer Stages and Actions.
Module 2
Diving deeper into the Customer Journey Mapping tool. Defining the Emotional Status and Touchpoints. Working towards pinpointing Opportunity Areas to Reframe the initial challenge of the customer.
Participant profile
This course is designed for:
Freelancers and consultants...
…looking to better advise their clients on commerce or customer-related challenges
Managers and Team Leaders...
…who want to discover the benefits of working with Personas & Customer Journey Mapping in their daily work
Young Professionals (individuals)...
…who want to discover how to use Personas & Customer Journey Mapping in their daily work
Government Policiy Makers...
...who want to gain key insights into the implementation of Personas & Customer Journey Mapping

No previous experience or knowledge required, only access to a digital environment

Meet your coaches
You will be guided through the Online Course by our highly skilled Facilitators. They have years of experience in working with Customer Journey Mapping and know the tips & tricks to guide you on this online learning journey how to implement this specific tool within your working environment.
Jeroen van der Weide
Partner DesignThinkers Academy Amsterdam
Jeroen is a Partner & Senior Facilitator at DT Academy. He is a driving force when it comes to facilitating teams, designing creative processes, and brainstorm sessions. He has an MA in Dutch Theatre, Film & Communications.
Daphne Lamberts
Service Development Lead DesignThinkers Academy Amsterdam
Daphne is Service Development Lead and optimizes courses content and is an enthusiastic facilitator of (online) programs with a MA in Concept Development & Trend Research.
Marcello Risolo
Design Lead DesignThinkers Academy Amsterdam
Marcello is Design Lead at DesignThinkers with an Italian/Swedish background and a degree from TU Delft and Politecnico Milan.
Tim Schuurman
Co-Owner DesignThinkers Academy Amsterdam
As co-owner of DT Academy, Tim has extensive experience in designing and implementing concepts, holding a MBA & MSc in Business and Financial Management.
CERTIFICATE
After successful completion of the 2-Modules Online Customer Journey Mapping Course, participants are awarded a DesignThinkers Academy Certificate and you can celebrate your achievement of becoming a true Design Thinker. All tools and materials will be available after the course for personal use.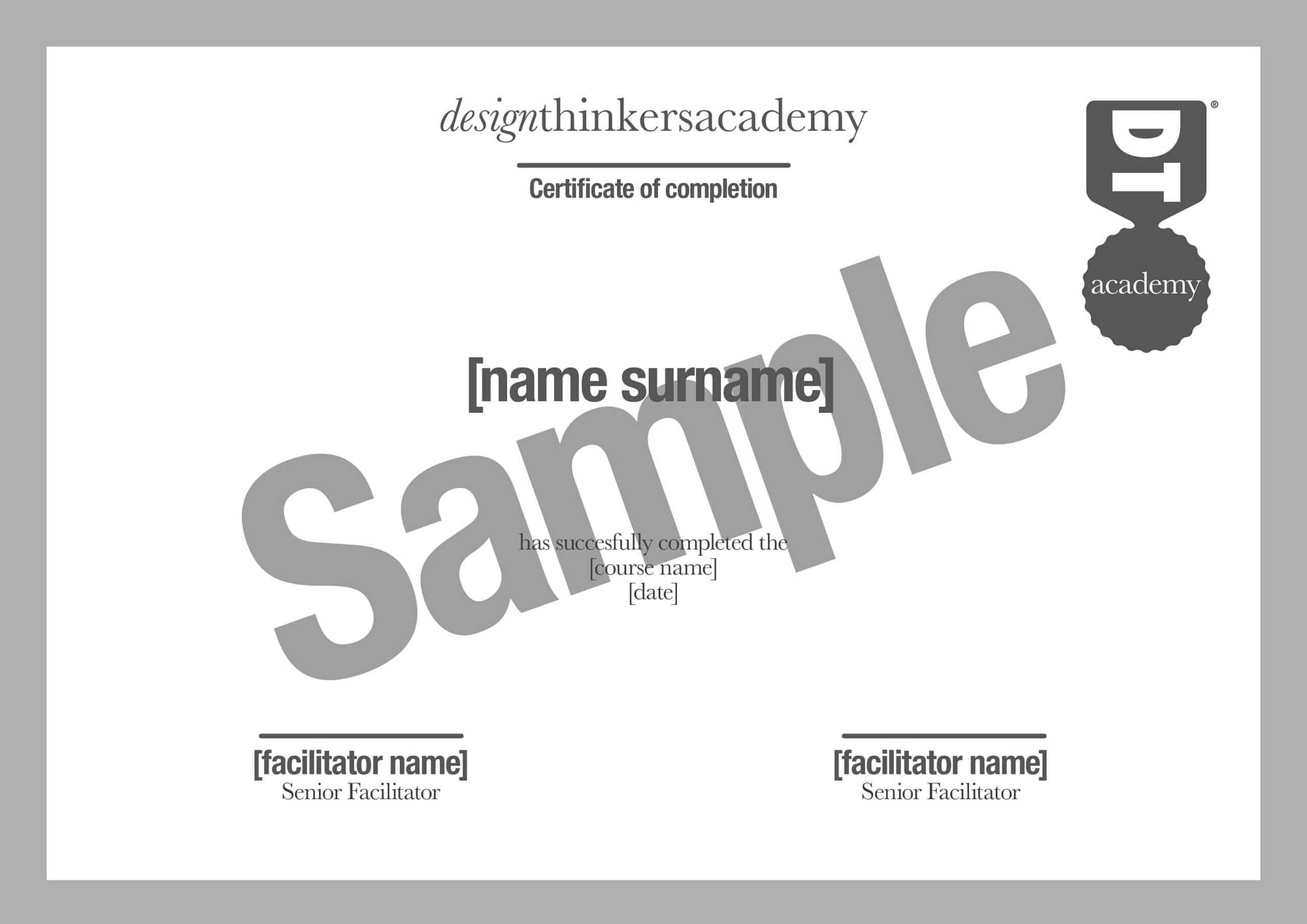 We can also offer you a tailor-made coaching program designed around your specific team objectives to guide you through the DT process.
Contact us