Course Description
2-Day Autonomous Thinking Training Course (Certificate)
Gain a deeper understanding of the environment we live in, learn to avoid biases and overcome assumptions, and become more efficient and self-driven in your day-to-day activities. Learn how to develop an autonomous mindset for yourself and your team members, unlocking the power of independent thought and decision-making. Enhance your ability to navigate uncertainty, be more aware of information traps, and cultivate creativity and proactivity in everything you do.
Early Bird Price
€ 1.295,00
Homework
No preparation time
Standard Price
€ 1.395,00
Involvement
2 days, 8 hours a day
About this course
In today's world, where information bombards us incessantly, cultivating the ability to think independently and discern valuable information is essential. Autonomous thinking is the art of self-governing our minds, combining critical and creative thinking to empower us to think for ourselves and take proactive action. This engaging and interactive 2-day workshop on Autonomous Thinking offers a transformative experience where you will gain firsthand knowledge in developing an autonomous mindset for yourself and your team members.
Through a blend of individual and team exercises, conducted in a face-to-face classroom setting, our expert facilitators will guide you in understanding and overcoming biases, raising awareness of your surroundings, and establishing healthy practices and rituals within your team that foster autonomous thinking. This workshop goes beyond theoretical discussions, allowing you to explore the practical application of autonomous thinking in real-life situations.
During the course, you will also delve into the relationship between autonomous thinking and effective decision-making, acquiring practical insights on how you transform your thoughts into tangible actions.
By the end of this course, you will be equipped with valuable skills to elevate your awareness, enhance critical and creative thinking, make informed decisions, and turn autonomous thinking into action.
What you'll learn
During this high-energy course, you'll engage in a balanced mix of theory and practice, gaining valuable skills and insights. Here's an overview of the main topics covered:
Awareness
Explore the concept of awareness and understand how conscious observation of our surroundings influences our thinking. Assess your level of awareness and examine the impact of various information sources on your decision-making.
Critical thinking
Differentiate between Critical Thinking and Criticism, and recognize the positive impact of Critical Thinking in our lives. Identify and overcome biases that affect judgement, utilizing effective strategies. Develop practical tools, such as the innovative Starbursting technique, to enhance your analytical capabilities. Master the art of formulating the right questions to stimulate insightful discussions and explore diverse perspectives.
Creative Thinking
Harness the power of creative thinking and acquire techniques to cultivate and strengthen your creative abilities. Explore a range of tools and exercises that stimulate innovation, fostering a culture of creativity within teams.
Decision Making
Understand the patterns in your decision-making process. Learn techniques to assess options, mitigate biases, and effectively evaluate risks and outcomes. Gain practical tools to navigate complex situations and make confident decisions.
Autonomous Acting
Learn how to transform Autonomous Thinking into Autonomous Acting. Engage in the dynamic learning activity, the Future Skills Game, designed to challenge your autonomous thinking skills and allow practical application of acquired knowledge.
Personal Action Plan
Discover how to establish healthy practices and rituals within your team to foster autonomous thinking. Explore the relationship between autonomous thinking and effective decision-making, gaining practical insights into translating thoughts into tangible actions.
Participant profile
This course is designed for:
Managers or Team Leaders...
…who want to enhance their autonomous thinking skills and empower their teams, leading to improved collaboration and decision-making
Executives or Decision Makers...
...seeking to gain a deeper understanding of essential skills for building healthy organisations capable of adapting to disruptive and dynamic environments.
Freelancers or Consultants...
...seeking to discover how autonomous thinking can be leveraged to drive positive change in their work
Individuals...
...seeking to gain better control over their personal and professional lives, enhancing their ability to think autonomously, overcome conflicts, and find effective solutions to day-to-day challenges.

No previous experience or knowledge required.



Meet your coaches
Adela Cristea
Co-Founder DesignThinkers Academy Eastern Europe
Co-Founder and Facilitator at DT Academy Eastern Europe. She is an experienced business consultant teaching entrepreneurship and leadership within corporate environments.
Certificate
After successful completion of the 2-Day Autonomous Thinking Course, participants are awarded a DesignThinkers Academy Certificate and you can celebrate your achievement of becoming a true Autonomous Thinker. All tools and materials will be available after the course for personal use.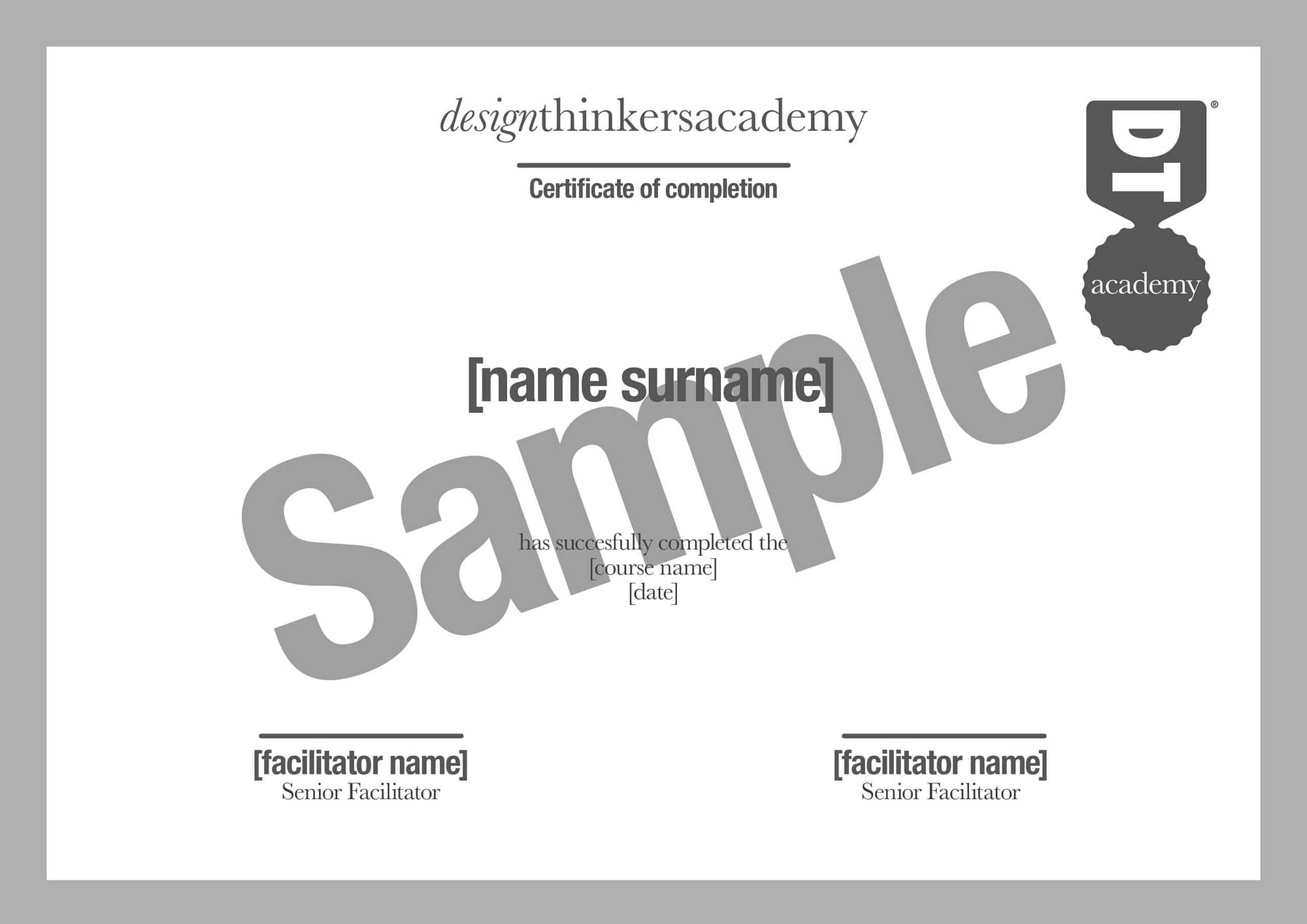 COVID-19 Protocol
At DesignThinkers Academy, we take our social duty very seriously when it comes to protecting the health of our valued participants and dear team members. Therefore, please have a look at our new COVID regulations for our in-person training, in compliance with the COVID-19 safety measures of the Dutch government:
As of February 25, 2022, we can welcome you to our studio without a demonstration of a Digital COVID Certificate or QR code. However, we do highly encourage you to do a self-test before coming to the studio.
If you are diagnosed with COVID or have COVID-related symptoms, we kindly ask you to contact us so we can rebook your ticket.
During the training days, it is no longer mandatory to keep a 1,5-meter distance or wear face masks. However, you are free to continue these practices if they make you feel more comfortable during the in-person sessions.
Our goal is to create a safe and comfortable environment in which we can continuously stimulate creativity for both participants and facilitators. Should you have any questions about our protocol or your personal situation, please reach out to us via +31 0 20 471 00 70 or info@designthinkersacademy.com.
Contact us