Course Description
6-Month Advanced Design Thinking Immersion Program (Certificate)
This course is the next step to fully mastering the art of facilitating powerful Design Thinking processes. Through the Advanced Design Thinking Immersion Program, learn the A-Z of how to incorporate Design Thinking in your projects and become a catalyst for creativity and innovation in your organization.
Early Bird Price
€ 3.250,00
Homework
No preparation time
Standard Price
€ 3.450,00
Involvement
6 months, see the description

About this course
This program consists of 3 phases: the preliminary meetup, the 3-day intensive session, and the long-term coaching period. First, participants will join a preparatory phase (online) in which they will learn the six pinnacles of Design Thinking facilitation and apply one of these to a practical project. Afterward, the intensive session serves as an in-depth reflection of the first phase to reveal new insights. Finally, the third phase involves participants' applying the knowledge gained during the previous phases, with close mentorship from our expert facilitators, to build a strong portfolio. In the end, an assessment will take place to measure the impact of this course on participants' learning journey.
Through this program, you can discuss your challenges when running a real-life project with our expert facilitators to get professional advice and guidance. Additionally, there are peer meetups arranged where you can learn industry-specific practices from fellow participants. To ensure success, make sure you enter the training with a strong understanding of the Design Thinking methodology and experience in facilitating this process.
What you'll learn
Through the Advanced Design Thinking Immersion Program, you will practice the 6 pillars of Design Thinking in a hands-on, customized way that fits the needs of your projects. After this program, you will become more confident and self-sufficient in creating human-centric solutions and running inspiring, DT-infused programs within your organization. This course will help you explore the following 6 pillars:
How to foster a creative climate?
Creating an environment that gives your team/organization the comfort to "grow" into a creative learning mode.
How to facilitate divergent and convergent thinking?
Combining and fine-tuning these two crucial mindsets, which can also be contradictory at times.
How to develop a human centric approach?
Encouraging empathy to recognize existing biases and cultivate a human-centered approach.
How to collaborate with stakeholders?
Dealing with complex innovation processes through strong and empathic leadership, with respect for different opinions and interests.
How to establish a continuous iterative process?
Overcoming the complexities and challenges of learning by doing, e.g. dealing with ambiguity and and excepting failures.
How to contribute to the business model innovation?
Adding value to your organization by connecting Design Thinking with its mission and strategy.
Participant profile
This course is designed for:
Managers or Team Leaders...
...having solid experience with the Double Diamond methodology and seeking to become proficient in leading Design Thinking processes
Executives or Decision Makers...
…seeking to practice and refresh their facilitation skills in a multidisciplinary setting
Facilitators or Moderators...
...looking for in-depth training on how to integrate Design Thinking into facilitating projects & processes

Basic knowledge of the Design Thinking process & tools is required and +/- 1 year experience in facilitating teams

Homework: 1 hrs preparation & personal introduction Miro board

Meet your coaches
You will be guided through the Advanced Design Thinking Immersion Program by our highly experienced Facilitators. They have years of experience in working with Design Thinking and know the tips & tricks to guide you on this online learning journey how to implement it within your working environment.
Jeroen van der Weide
Partner DesignThinkers Academy Amsterdam
Jeroen is a Partner & Senior Facilitator at DT Academy. He is a driving force when it comes to facilitating teams, designing creative processes, and brainstorm sessions. He has an MA in Dutch Theatre, Film & Communications.
Fieke Sluijs
Senior Facilitator DesignThinkers Academy Amsterdam
Fieke Sluijs is senior facilitator and learning experience designer. She inspires people to build creative confidence and unlock their innovative potential.
Certificate
After successful completion of the 6-Month Advanced Design Thinking Immersion Program, participants are awarded a DesignThinkers Academy Certificate and you can celebrate your achievement of becoming a true Design Thinker. All tools and materials will be available after the course for personal use.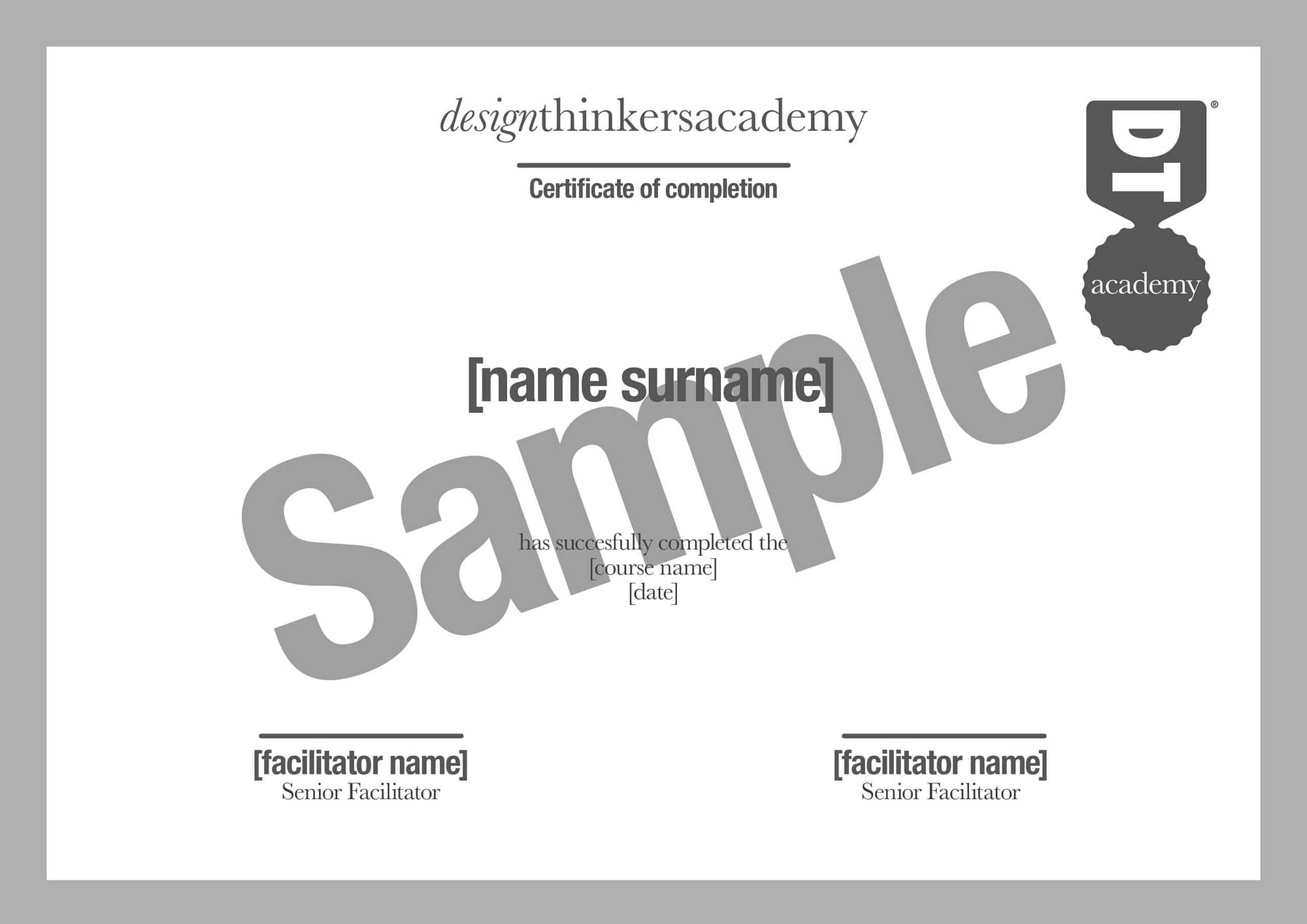 COVID-19 Protocol
At DesignThinkers Academy, we take our social duty very seriously when it comes to protecting the health of our valued participants and dear team members. Therefore, please have a look at our new COVID regulations for our in-person training, in compliance with the COVID-19 safety measures of the Dutch government:
As of February 25, 2022, we can welcome you to our studio without a demonstration of a Digital COVID Certificate or QR code. However, we do highly encourage you to do a self-test before coming to the studio.
If you are diagnosed with COVID or have COVID-related symptoms, we kindly ask you to contact us so we can rebook your ticket.
During the training days, it is no longer mandatory to keep a 1,5-meter distance or wear face masks. However, you are free to continue these practices if they make you feel more comfortable during the in-person sessions.
Our goal is to create a safe and comfortable environment in which we can continuously stimulate creativity for both participants and facilitators. Should you have any questions about our protocol or your personal situation, please reach out to us via +31 0 20 471 00 70 or info@designthinkersacademy.com.
Contact us