Course Description
5-Day DesignThinkers Global Bootcamp Week Training (Certificate)
The 5-day DesignThinkers Global Bootcamp provides a unique opportunity to learn from internationally recognized and highly experienced Service Design & Design Thinking practitioners. Under the guidance of our seasoned facilitators, familiarize yourself with the divergent/convergent model of the Double Diamond, and solidify your new Design Thinking mindset by practicing on a real-life project.
Early Bird Price
€ 2.950,00
Homework
Reading + Miro board
Standard Price
€ 3.250,00
Involvement
5 days, 8 hours a day
About this course
During this intensive, high-paced 5-day program, explore the path of the Double Diamond: from Discover, to Define, to Design, and to Deliver. Along the way, you will be incorporating various skills and tools according to the different phases, such as Research, Stakeholder Mapping and Persona Building (Discover phase), Customer Journey Mapping, Reframing Challenge and Ideation (Define phase), Prototyping, Testing and Implementation (Design phase) and how to process feedback iteratively (Deliver phase). Moreover, you can understand personal areas of development, as we invite experts from theoretical and business standpoints to accompany you in your learning. You will also be able to validate your solution with seasoned practitioners and understand the true impact of your project through this robust program.  
At the end of the Bootcamp Week, you will be able to empathize and understand end-users better. You will also be able to create an innovation process driven by fast iterations. Past participants of this program include service designers, heads of innovation, business consultants, product owners, etc. Pamela Caillens, one of the Bootcamp participants from ​​Cartier International SNC., put it best when she said, "The DesignThinkers Global Bootcamp was a real transformation. Highly recommended to anyone who wants to understand what Design Thinking is all about".
What you'll learn
Together with our internationally recognized coaches, Facilitators and experts, you will find solutions to the challenges of applying and facilitating this new way of working in your organization and convincing your sponsors and team members.
Onboarding
Welcome & Introductions
Team dynamics
Energizers
Meet the challenge owner
Discover
Introduction & Research
Masterclass Research
Briefing, Sense making
Persona Building
Define
Framing & Ideation
Masterclass Opportunities
Customer Journey Map
Reframing, Ideation

Design
Prototyping & Pitching
Masterclass Business
Testing prototypes
Pitch
Deliver
Reflect & Ceremony
Masterclass Apply DT
Personal reflection
Celebration
Participant profile
This course is designed for:
Managers or Team Leaders...
...seeking to develop and integrate cutting edge creative practices into their business processes and corporate culture
Young Professionals (individuals)...
…who want to get a profound understanding how to use human-centered innovation methods in their daily work
Executives or Decision Makers...
...seeking to apply Service Design Thinking in their daily work. Looking to strengthen their ability to lead innovation and enhance the organisations innovation capability

Government Policy Makers…
...who want to gain key insights into the implementation of Design Thinking

No previous experience or knowledge required

Homework: 1 hrs preparation & personal introduction Miro board
Meet your coaches
You will be guided through the Bootcamp by our highly experienced Facilitators. They have years of experience in working with Design Thinking and know the tips & tricks on how to implement it within your working environment.
Tim Schuurman
Co-Owner DesignThinkers Academy Amsterdam
As co-owner of DT Academy, Tim has extensive experience in designing and implementing concepts, holding a MBA & MSc in Business and Financial Management.
Jeroen van der Weide
Partner DesignThinkers Academy Amsterdam
Jeroen is a Partner & Senior Facilitator at DT Academy. He is a driving force when it comes to facilitating teams, designing creative processes, and brainstorm sessions. He has an MA in Dutch Theatre, Film & Communications.
David Kester
Managing Partner DesignThinkers Academy London
He advises on complex innovation and design projects with industry and national governments. David worked for over 25 years in the creative industries and is former Chief Executive of the UK Design Council.
Els Dragt
Trend Researcher, Trainer & Lecturer Studio Elsewhere
She is a Researcher, Trainer and published Author with over fifteen years of experience in human-centered and qualitative research. As a lecturer, she shares her research expertise with students and fellow professionals around the globe.
Thomas de Bresser
Senior Facilitator DesignThinkers Academy Amsterdam
Thomas is one of our main experts taking pride in guiding you through a structured design approach and establish a new way of working to sustain innovation.
Nina Maldonado
Agile Transformation & Digital Innovation Manager AkzoNobel
Nina has a strong eye for innovation, and dares to look beyond current challenges to help organizations transform and achieve long-lasting change. She helps organizations create an innovative culture, building digital capabilities and facilitating the integration of Design Thinking, Lean Startup and Agile across teams.
Ralf Beuker
Academic Coach & Professor of Design Management
Ralf has over 20 years of experience in supporting various organizations from the creative industries, with a focus on design-minded companies. His primary goal is to support teams and individuals in better fulfilling their roles within organizations in a strategic fashion, applying methodologies from Design in order to address such issues in a more human-centered way.
Fieke Sluijs
Senior Facilitator DesignThinkers Academy Amsterdam
Fieke Sluijs is senior facilitator and learning experience designer. She inspires people to build creative confidence and unlock their innovative potential.
Marcello Risolo
Design Lead DesignThinkers Academy Amsterdam
Marcello is Design Lead at DesignThinkers with an Italian/Swedish background and a degree from TU Delft and Politecnico Milan.
Certificate
After successful completion of the 5-Day DesignThinkers Global Bootcamp Week, participants are awarded a DesignThinkers Academy Certificate and you can celebrate your achievement of becoming a true Design Thinker. All tools and materials will be available after the course for personal use.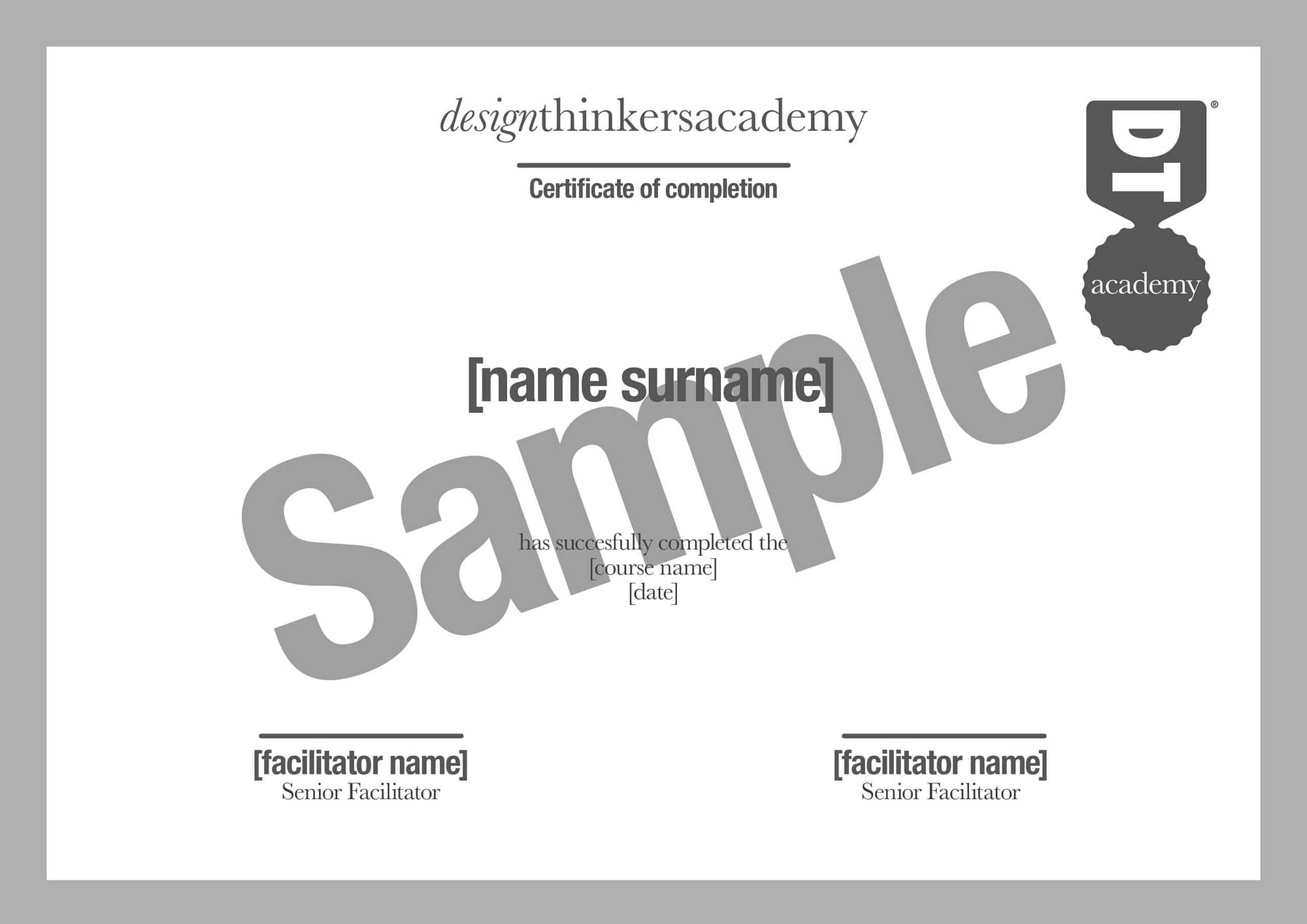 Contact us