Course Description
3-Week Online Employee Experience Design Training Course (Certificate)
How do you develop a strategic employee-focused vision for HR? How do you create employee engagement? These are just some of the interesting challenges for which you can use Design Thinking at its best in order to improve the Employee Experience. 
Early Bird Price
€ 1.095,00
Homework
No preparation time
Standard Price
€ 1.195,00
Involvement
3 weeks, 2 hours per session
About this course
With a combination of live classroom sessions, group assignments and homework you will gain practical knowledge and experience to apply Design Thinking in your daily work. The Online Employee Experience Course consists of 4 modules (6 sessions in total), focusing on the stages of Design Thinking: Discover, Define, Design, Deliver. Each week includes interactive online classroom sessions, followed by group work.
A follow-up call will provide you with the opportunity to reconnect with one of your Facilitators to reflect on your experiences with implementing DT in your daily work. In small groups with your fellow alumni, you can share your struggles and/or insights and once again learn from each other. A follow-up call will provide you with the opportunity to reflect on the Employee Experience Design and ask final questions to your Facilitator. 
What you'll learn
Design Thinking is entering the world of Human Resources Management more and more. This interactive Online Employee Experience Design Course will equip you with the Design Thinking mindset and tools to design a human-centered organization, where people feel recognized, motivated, and engaged.
Onboarding. Welcome & Kick-off
Meet the team and familiarize yourself with the online tools. This way you will be ready to get started.
Discover. Introduction & Research
Introduction, Design Research, Mind Map, Stakeholder Map and Personas.
Define. Framing the problem
Opportunity Areas, Employee Journey Map and Problem Statement.
Design. Ideation & prototyping
Ideation, Idea Priority Map, Service Scenarios and Artefacts.
Deliver. Testing & Pitching
Testing the pilot, Improving it, Pitch, Reflection and Personal Plan.
Participant profile
This course is designed for:
HR Professionals...
...seeking to develop and integrate cutting edge creative practices into their employee journey processes and corporate culture
People & Culture Managers...
…looking for new tools to structure their employee journey and collaboration processes
Managers or Team Leaders...
…who want to discover what Design Thinking can offer their team in being more employee-centered


No previous experience or knowledge required

"You know it is a good training when you don't only grow professionally but also personally."
Meet your coaches
You will be guided through the Online Employee Experience Course by our highly experienced Facilitators. They have years of experience in working with Design Thinking and know the tips & tricks to guide you on this online learning journey how to implement it within your working environment.
Jeroen van der Weide
Partner DesignThinkers Academy Amsterdam
Jeroen is a Partner & Senior Facilitator at DT Academy. He is a driving force when it comes to facilitating teams, designing creative processes, and brainstorm sessions. He has an MA in Dutch Theatre, Film & Communications.
Karin Kammeijer
HR Manager
has experience working within several HR generalist roles in a multinational. She is now working as an independent consultant with a focus on improving the Employee Experience within organizations.
Certificate
After successful completion of the 5-Week Online Employee Experience Design Course, participants are awarded a DesignThinkers Academy Certificate and you can celebrate your achievement of becoming a true Design Thinker. All tools and materials will be available after the course for personal use.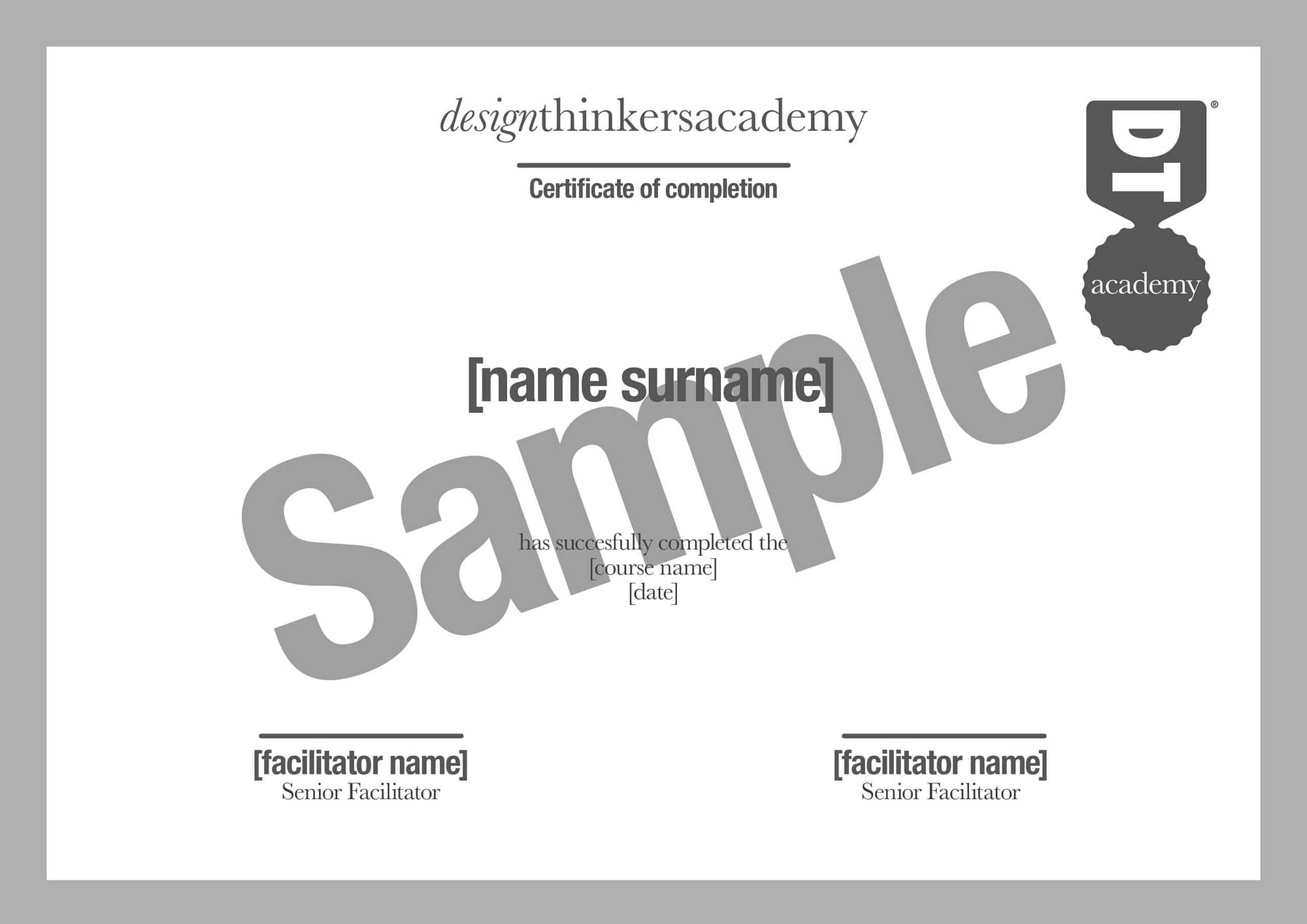 We can also offer you a tailor-made coaching program designed around your specific team objectives to guide you through the DT process.
Contact us