Course Description
2-Day Design Thinking Fundamentals Training Course (Certificate)
This interactive course will equip you with the Design Thinking mindset, tools and skills to kick-start bold innovation. After completing the course, you will be able to apply Design Thinking right away.
Early Bird Price
€ 1.495,00
Homework
No preparation time
Standard Price
€ 1.595,00
Involvement
2 days, 8 hours a day
About this course
Knowing about Design Thinking is a good start, but the trick lies in successfully applying it to projects. During this course, you will be learning-by-doing and practice fundamentals tools such as Stakeholder Mapping, Personas, Customer Journey Mapping, Service Scenarios and Prototyping by working on a challenge.
You will work in co-creation within small teams to learn from participants with diverse industry backgrounds. Our highly skilled facilitators will guide you trough the Design Thinking process, teaching you how to use empathy when envisioning future scenarios of service for your end-users.
What you'll learn
Learn how to listen to your end-user, embed end-user insights, develop prototypes and work in small iterations. Dare to fail and pitch your story!
Welcome & Kick-off
Meet the team
Energizers
Introducing DT
Keynote & Cases
Discover
Briefing & Research
Design Research
Stakeholder Map
Personas
Define
Framing the problem
Opportunity Areas
Customer Journey Map
Problem Statement
Design
Ideation & Prototyping
Idea Priority Map
Service Scenarios
Artefacts
Deliver
Testing & Pitching
Testing the pilot
Pitch
Reflection & Celebration
Participant profile
This course is designed for:
Young Professionals (individuals)...
...who want to discover how to use human-centered innovation methods in their daily work
Managers or Team Leaders...
...seeking to develop and integrate cutting edge creative practices into their business processes and corporate culture
Executives or Decision Makers...
...looking to strengthen their ability to lead innovation and enhance the organization's innovation capability
Government Policy Makers...
...who want to gain key insights into the implementation of Design Thinking

No previous experience or knowledge required

Meet your coaches
Our expert Facilitators will share their experience and tricks on how to implement Design Thinking in projects and organizations. That way you can start applying Design Thinking straight away in your daily working environment.
Tim Schuurman
Co-Owner DesignThinkers Academy Amsterdam
As co-owner of DT Academy, Tim has extensive experience in designing and implementing concepts, holding a MBA & MSc in Business and Financial Management.
Jeroen van der Weide
Partner DesignThinkers Academy Amsterdam
Jeroen is a Partner & Senior Facilitator at DT Academy. He is a driving force when it comes to facilitating teams, designing creative processes, and brainstorm sessions. He has an MA in Dutch Theatre, Film & Communications.
Adela Cristea
Co-Founder DesignThinkers Academy Eastern Europe
Co-Founder and Facilitator at DT Academy Eastern Europe. She is an experienced business consultant teaching entrepreneurship and leadership within corporate environments.
Yuen Yen Tsai
Senior Facilitator DesignThinkers Academy Amsterdam
She has extensive experience in helping 'fixed' mindsets in organizations become 'growth' mindsets using playfulness and creativity.
Certificate
After successful completion of the 2-Day Design Thinking Fundamentals course, participants are awarded a DesignThinkers Academy Certificate and you can celebrate your achievement of becoming a true Design Thinker. All tools and materials will be available after the course for personal use.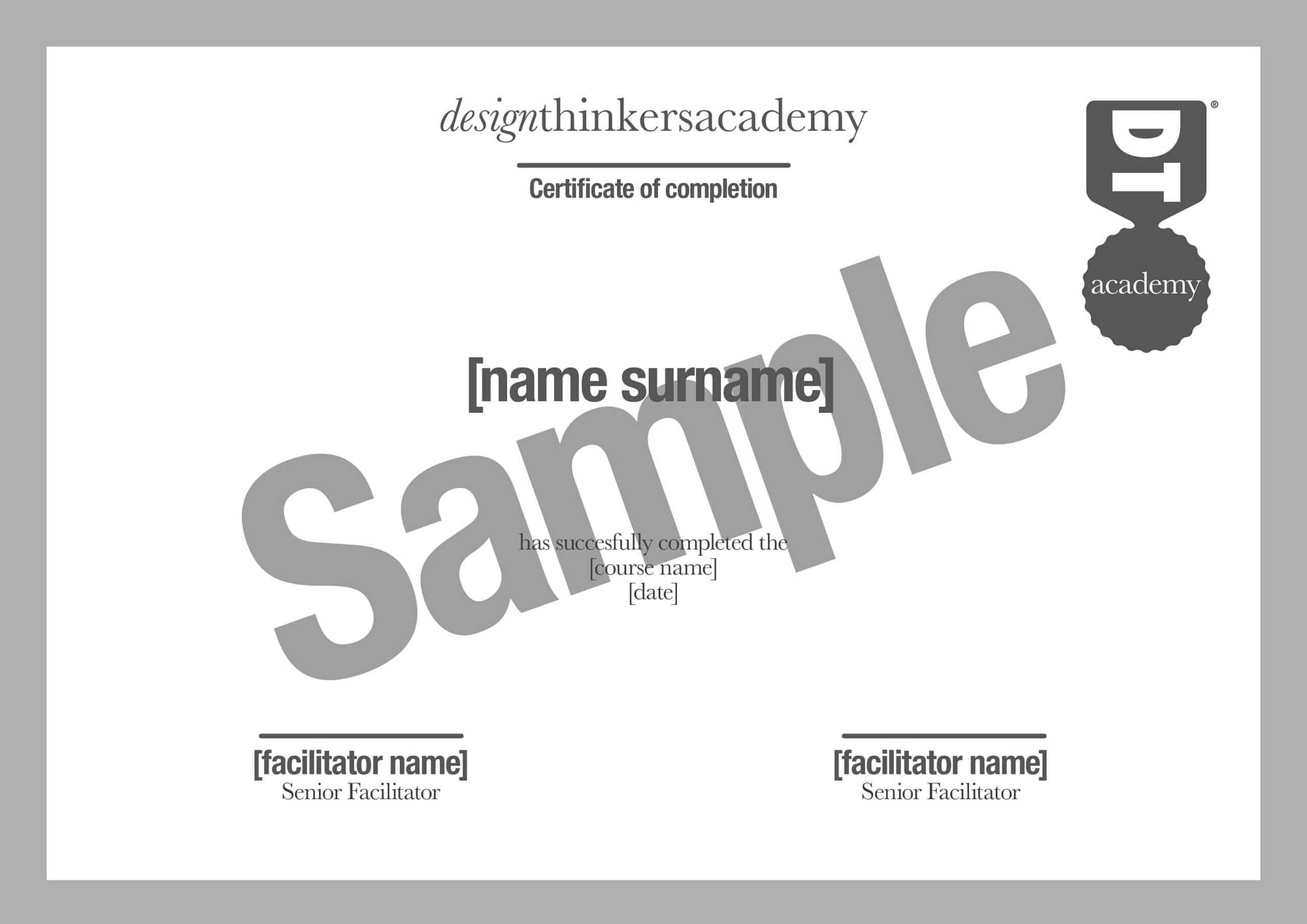 Contact us